Vortic came to life in London to find innovative solutions to digital exhibition production and to heighten the experiences of the art crowd. Gaining more visibility during the Covid-19 pandemic that prevented digital exhibitions from taking place, Vortic collaborated with galleries and institutions such as Tate, David Zwirner, Pace, and White Cube on a number of projects. The platform prioritises dialogues between artists and their audience, creating a space for collaboration between institutions, which generates digital projects via collectives. The OUT Collective, which is best described as a network of galleries that seek to support LGBTI+ organizations, is among these collectives.
Despite London Pride being cancelled in September, the event was still recognised with the OUT Collective being launched on Vortic. With the participation of over twenty galleries, OUT collective not only allows artists and galleries to gain visibility but also supports queer organizations such as akt, ELOP, Gendered Intelligence, Queercircle, and amfAR through artwork sales. This article provides a reading of the artistic production by Berke Yazıcıoğlu, Miguel Ángel Rojas, and Patrick Angus, all exploring concepts of pleasure and breach. All these exhibitions are available on Vortic until 31 December, 2021.
Desire to us
Was like a double death,
Swift dying
Of our mingled breath,
Evaporation
Of an unknown strange perfume
Between us quickly
In a naked
Room.
Langston Hughes, Desire, 1947[1]
Berke Yazıcıoğlu (b.1992) works with media such as painting and illustration which are akin to each other. Completing his Fine Arts education at The School of the Art Institute of Chicago, Yazıcıoğlu focuses on relationships of bodies and desires by erasing the line between fact and fiction, a theme he explores in his 2012 and 2014 solo exhibitions at Galeri Artist and Kare Art Gallery. Whilst he embraces media associated with visual art, his latest works are inspired by music. For instance, in his Spring Ritual (2020) series, in which he uses carpet weaving technique, Yazıcıoğlu visually interprets Igor Stravinsky's piece of the same name. Additionally, his illustrations decorate the pages of publications such as The New Yorker and Wired.
Berke Yazıcıoğlu's OUT Collective exhibition is presented by Dirimart, a gallery that opened in Istanbul in 2002, it supports their represented artists in the international arena. Inside the exhibition, there are five ink-on-paper and collage works titled Untitled that are produced between the years 2016 and 2017. In this series, Yazıcıoğlu visits websites that allow people to chat with strangers via webcam video streams. Thanks to these small segments on the web, bodies are able to expose themselves fully on webcams. Thousands of miles away from each other, these digital bodies meet in naked rooms that are referenced in Lanston Hughes' poem Desire. Yazıcıoğlu is visually interested in the moments in which the wi-fi connection is poor and thus the resolution is low. In these works in which pastel colours dominate, the artist turns the low-quality resolution into an advantage and ultimately uses it as a tool. The blurriness places these realistic figures into a mysteriously abstract context. The wobbly yet determined form of the ink opens a discussion on the fleeting nature of these images on the webcam. While doing all this, Yazıcıoğlu makes one think about the queer potentials of the figurative painting.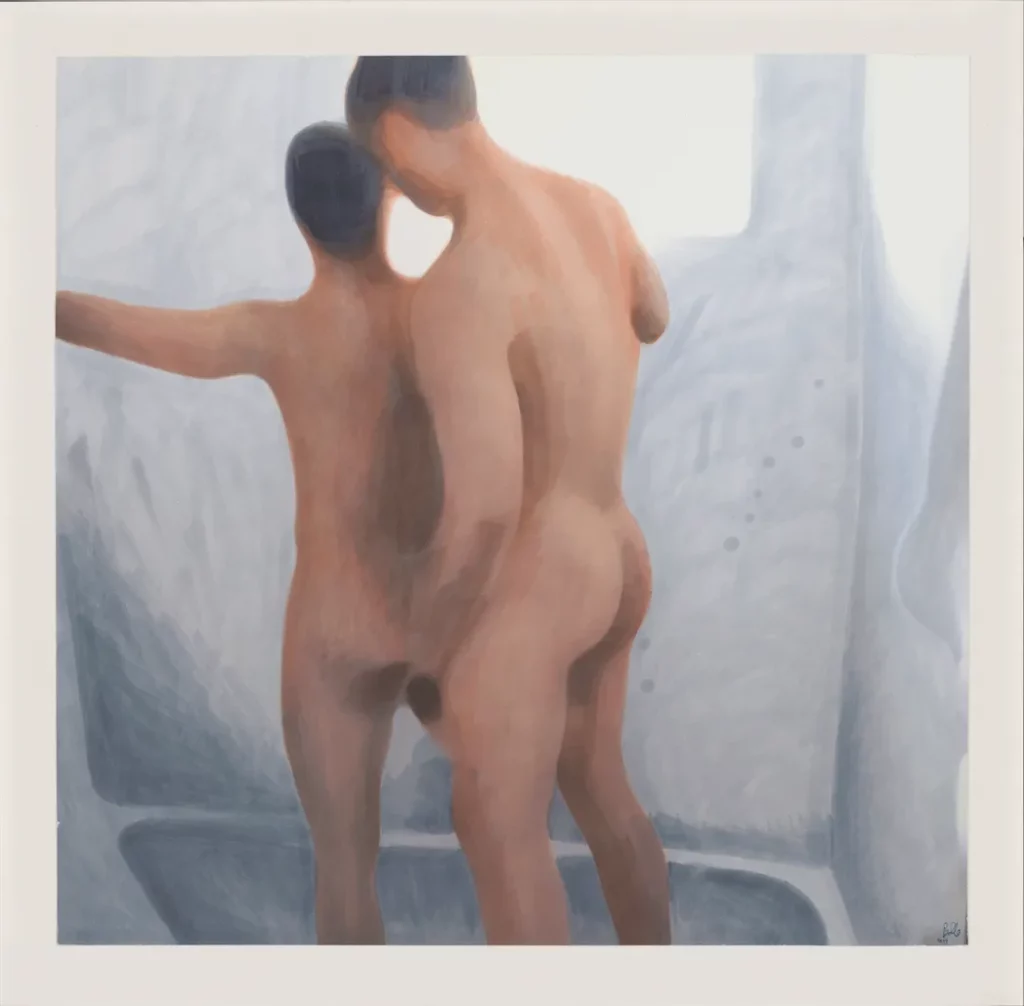 Thinking about the queer potentials of the history of figurative painting, Berke Yazıcıoğlu's work titled Untitled (2017) references Taner Taner (2003) by Taner Ceylan who is known for his photo-realist aesthetic in his use of colour and composition. Untitled (2017) is almost like the digitilized, current-day version of Taner Taner, which was first exhibited in the eighth rendition of the Istanbul Biennial and generated a big controversy. This time, however, both the figures and the contact between them are faint, blurry, and transient. Berke Yazıcıoğlu does not shy away from playing with the vision of his audience whilst copying the performative moments from chat rooms onto paper. The moments in which one or many figures exist via pixels leave a voyeuristic impression on the audience. During the pandemic, we know that visitorship to chat apps have increased due to the increased hours spent at home. The fact that Yazıcıoğlu's Untitled series is displayed now allows us to look at these images from a different perspective.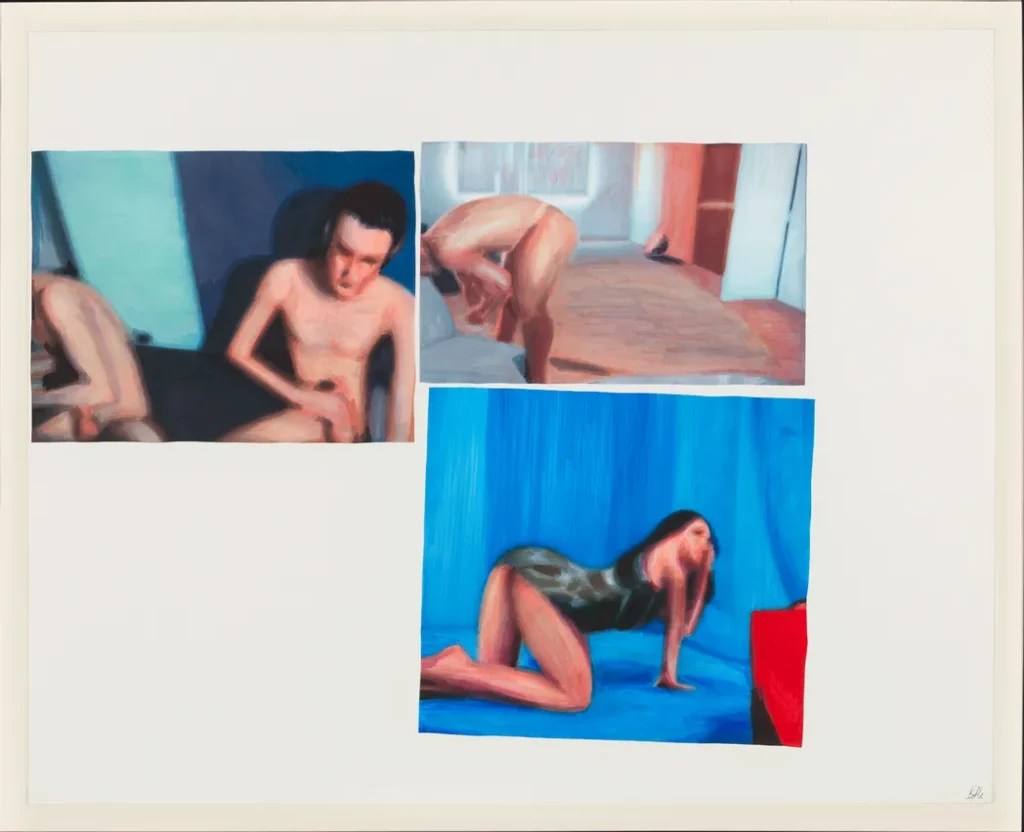 Miguel Ángel Rojas (1946) is a conceptual artist who has been working with lenses since the 1970s. In addition to photography, Rojas includes painting, video, and installations in his artistic practice which focuses on Colombia's marginal subcultures from a lived experience. Although his early works are trials in the self-portrait and long exposure, he produces work that reflects Colombia's political atmosphere and references identity, public space, violence, and drug consumption. At a time in which traditional media such as painting, drawing, and engraving is popular, he uses photography as an experimental medium and thus finds himself at the forefront of the art world. By defending sexual, cultural, and political differences he creates a breakthrough in Colombian art.[2] Since 1976, Miguel Ángel Rojas has joined countless exhibitions, and his works have been displayed in museums and institutions such as MoMA, MUSAC, Bogotá Museum of Modern Art, and Colombia National Museum.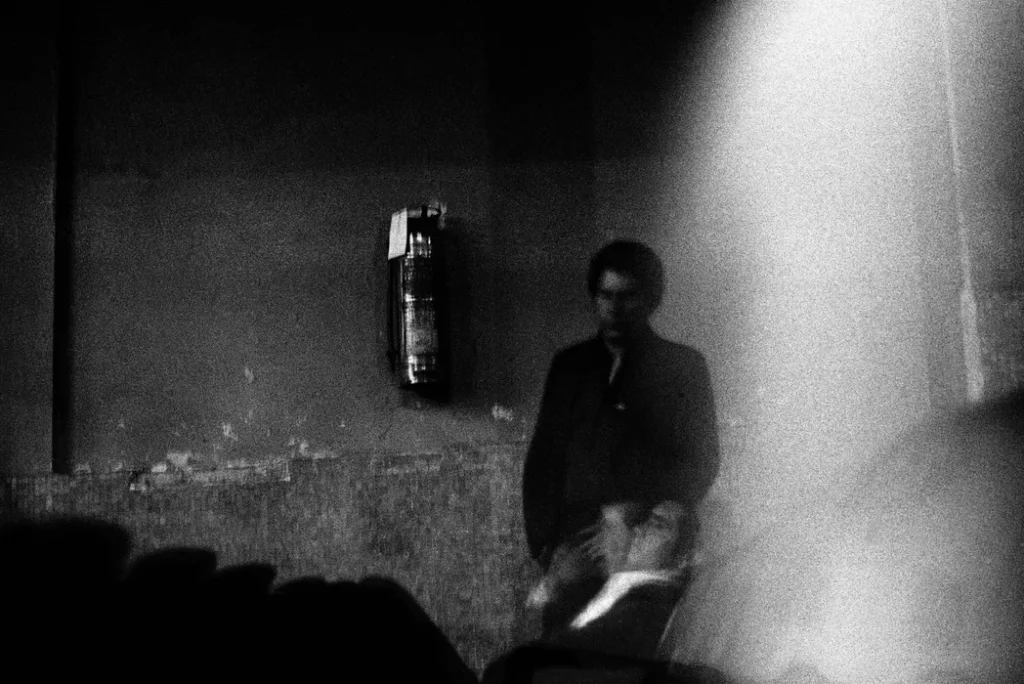 Miguel Ángel Rojas' OUT Collective exhibition is presented by Casas Riegner, a gallery located in the artist's home country Colombia and represents Colombian artists. Inside the exhibition, Miguel Ángel Rojas's photograph editions and paintings that were produced between the years 1979-1991 are displayed. The main feature of the exhibition is the photography series Faenza (Tres en platea), in which the artist secretly watches gay men who attend a movie theatre that screens B-films. The act of peeping that is best described as voyeurism in Berke Yazıcıoğlu's paintings, is now taking place between Miguel Ángel Rojas and his photographic subjects. Rojas hides his camera underneath his jacket and watches those who cruise for a partner. The privacy of the subjects is violated, even if their faces are not read to the use of dark lenses. Inspired by the tension between pleasure and violation, Miguel Ángel Rojas defines the Faenza (Tres en platea) series as "walking down the darkest cellars of subjective experience"[3] This series visualizes the concept of cruising, which was articulated by countries like the UK, US, Australia after the 1960s. Cruising is to look for a partner in public areas. Remembered as a 'dark room' by the LGBTI+ community, and shouldering the queer culture of Bogotá, the film theatre turns into a(n) [archival] document via Rojas' lens. Lit by the lights of the theatre curtains, the Faenza series marks the beginning of Rojas' critical artistic practice during a time in which Colombia is in an unstable period politically.
New York-based Bortolami is participating in the OUT collective with Tom Burr, Robert Bordo, and the esteemed artist Patrick Angus, who died in 1992 due to complications related to AIDS. Coming from different generations and backgrounds, the works of the three artists revolve around the themes of identity, memory, and subjectivity. Parts of the sales made from the exhibition will be donated to the AIDS research foundation, AmfAR.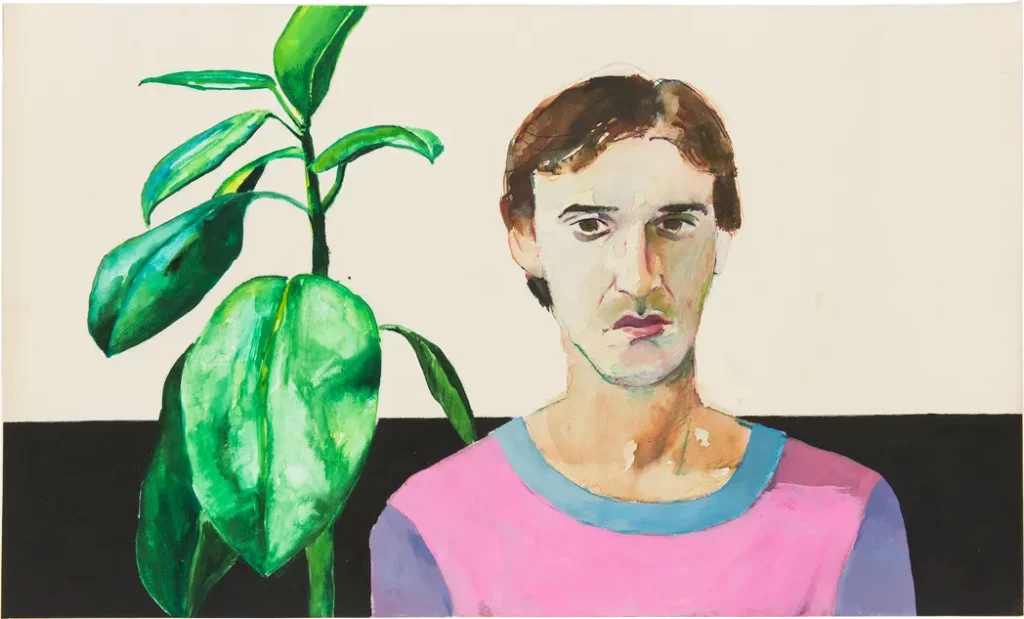 California-born Patrick Angus (b.1952- d.1992) completed his art education by receiving a scholarship from Santa Barbara Art Institute. During his time there, he discovered 72 Drawings by David Hockney (1972), which became an inspiration for his artistic practice. Thanks to the book, he got to know an artist who felt proud of his sexuality and represented it in his art. This led him to move to Hollywood.[4] Although the first years that he lived in Hollywood were lonely and sad, his passion for art became a motivation for him. Trying to hold on to the art market at a time when figurative paintings are not desired, he focuses on portraits of men from the 1980s onwards.[5] Like his master David Hockney, he starts to depict his surroundings in all sincerity. The four artworks that are displayed on the OUT Collective exhibition are from this period. In the watercolor-on-paper work titled (Untitled- Boy with Plant) an anxious and weary figure is staring at us. Reminding us of Hockney's color scale, the painting is the honest depiction of Angus' lonely days in Hollywood. The following pencil-on-paper works belong to the Los Angeles Drawings series that later turned into an artist's book (Patrick Angus: Los Angeles Drawings, 2003). Although Angus is primarily known for his depiction of the nightlife of gay folks in entertainment venues, the drawings in this sketchbook reflect his vulnerable and emotional side. Lying in emptiness without any worry, naked bodies fade away from the borders of the paper. They "evaporate" as in Langston Hughes' poem Desire.
Berke Yazıcıoğlu, Miguel Ángel Rojas, and Patrick Angus' works have a strange connection through body, pleasure, and location. Similar to Guy Hocquenghem's Homosexual Desire[6], this is tied to the endless reckoning of the personal and the political. Such connection upsets the dynamics of desire and results in a breach of confidentiality. In Berke Yazıcıoğlu's painting, the connection is found in the act of surveillance between the viewer and the work. It points to the pleasure derived from something we are not supposed to look at. Miguel Ángel Rojas' secret footage of film theatres that deviate from their original purpose makes us question our ethics. The viewer all of a sudden becomes the person that looks through a keyhole. In Patrick Angus's drawings, we see the silent tension between the painter and his model. Watching someone sleeping becomes a naive crime.
---
[1] Langston Hughes, Desire, 1947
[2] Marta Rodríguez, Miguel Ángel Rojas (Luis Ángel Arango Library, Bogotá), ArtNexus, Issue: 68, March – May 2008.
[3] Miguel Ángel Rojas, Desencuentros Press Release, Casas Reigner, 02.09.2021
[4] Visual AIDS, Patrick Angus, https://visualaids.org/artists/patrick-angus
[5] Art Viewer, Patrick Angus at Bortolami, 12.02.2021 https://artviewer.org/patrick-angus-at-bortolami/
[6] Homesexual Desire is a 1972 book by Guy Hocquenghem that has become a timeless of queer theory.