Despite all the economic and political obstacles that occur throughout the nation, the art life of Istanbul maintains its dynamism. For many art lovers, the last two years have been lacking the communal experience of seeing art. Museums and galleries in the city sat empty for a long time, and now they are ready to bring us uplifting experiences with a yearning enthusiasm.
The summer returned to Istanbul and unveils great programs –there are so many exquisite exhibitions to explore! As an art-enthusiast or just a wannabe, if you plan to stay in Istanbul this summer, here is your art guide for summer vacation. We gather some art gigs we're most excited to see, where you can escape the heat of summer days and meet with art in cool museum and gallery spaces.
And for starters, we created a guide for a day packed with art. Charge your phones, wear your artsy looks, and don't forget to enjoy!
Start your day early with a breakfast in Emirgan and later visit the Sakıp Sabancı Museum for David Hockney's latest iPad paintings. Then, follow the coastline to stop by Borusan Contemporary and see Axel Hütte's admirable photography. Have lunch on a rooftop with a mesmerizing Bosphorus view, and make your way up to the Beyoğlu area, where you can exhibit Arter, Pera, Yapı Kredi Culture, and Art, Zilberman İstanbul, and many more! When you're done with the day, we suggest having a cocktail in Karaköy's delightful bars, where you can digest all the fantastic artworks you get to experience!
Featured Exhibitions
Rounded by Sleep / Group Exhibition
May 18, 2022 – January 29, 2023, Arter Museum
Curated by Eda Berkmen, the works which form the exhibition Rounded by Sleep revolve around such concepts as intimacy and sharing, the individual and society, care and control, resistance and submission, and progress and repetition, all linked to the theme of sleep. The connection that sleep builds with the past and the unconscious is brought to the exhibition space through a selection of contemporary artworks as well as historical representations and archaeological artifacts.
In Rounded by Sleep, following artists' works can be exhibited: hu Akgün, Rasim Aksan, Alaettin Aksoy, Ann Antidote, Yüksel Arslan, Volkan Aslan, Ece Bal, Başak Bugay, Gökhan Deniz, Şükriye Dikmen, Marlene Dumas, Emine Ekinci, Annika Eriksson, İnci Furni, Nazmi Ziya Güran, İhsan Cemal Karaburçak, Gizem Karakaş, Evrim Kavcar, Merve Kılıçer, Eva Kotátková, Jarosław Kozłowski, Can Küçük, Nevhiz, Lara Ögel, Aslı Özdoyuran, İz Öztat, Necla Rüzgar, Pierrick Sorin, Mladen Stilinović, Etem Şahin, Ali Emir Tapan, Defne Tesal, Begüm Yamanlar.
Ahmet Doğu İpek / A Halo of Blackness Upon Our Heads
May 18, 2022 – January 29, 2023, Arter Museum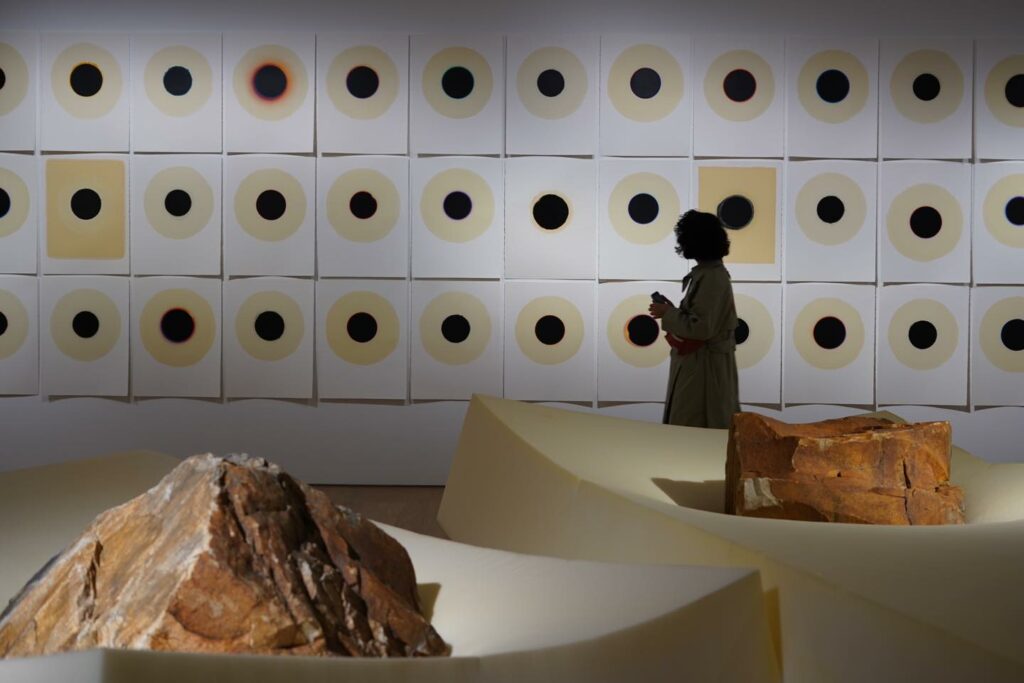 A Halo of Blackness Upon Our Heads brings together works Ahmet Doğu İpek has produced with various mediums between 2020–2022 in the context of this exhibition. Stemming from natural phenomena such as sandstorms, volcanic eruptions, landslides, and sun eclipses; the paintings, drawings, installations, and video works gathered here interpret by way of abstraction awe-inspiring events that exceed the human scale and are endowed with the capacity to dazzle or appall us.
Bill Fontana: Resounding Io, Locus Solus, ThisPlay exhibitions can also be visited at Arter throughout the summer.
Into the Unknown / Collection Exhibition
May 28 – August 14, 2022, Salt Beyoğlu, Salt Galata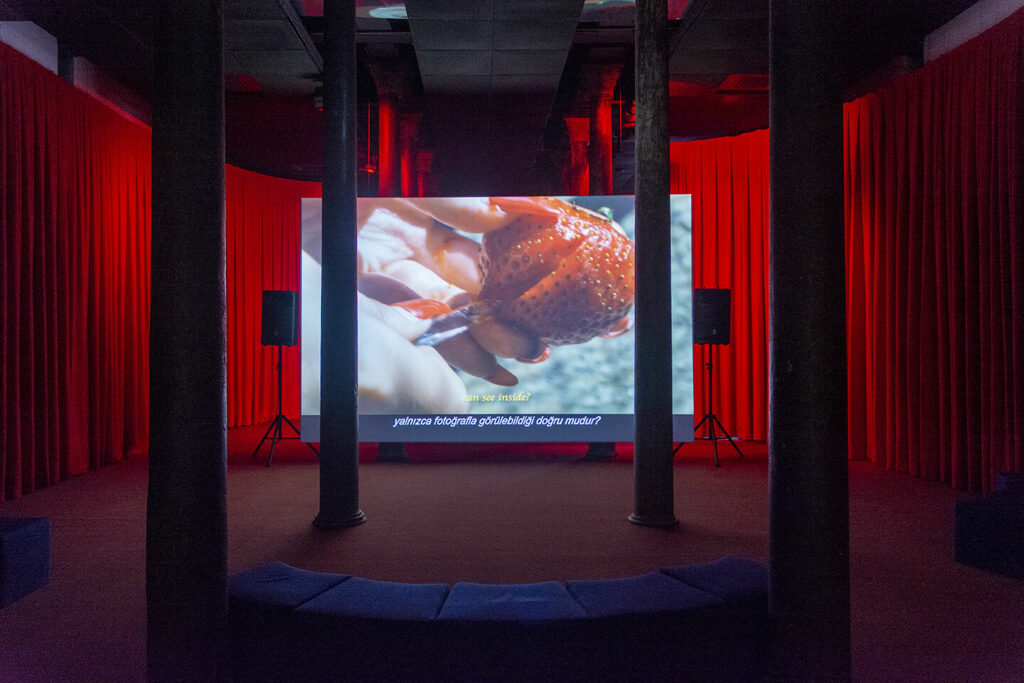 Comprising a selection from the video and film collection of the Warsaw Museum of Modern Art, the exhibition concentrates on art's ability to disrupt the established historical and cultural narratives in a post-1989 world subsequent to the dissolution of the Eastern Bloc and seeks alternative subjectivities that go beyond existing and known accounts. The exhibition features works by Diane Severin Nguyen, Nathalie Djurberg, Agnieszka Polska, Józef Robakowski, Duncan Campbell, Deimantas Narkevičius, Shana Moulton, Jananne Al-Ani, Oleksiy Radinsky, Neil Cummings and Marysia Lewandowska.
David Hockney: The Arrival of Spring, Normandy, 2020
May 11 – July 29, 2022, Sakıp Sabancı Museum
The exhibition includes 116 of David Hockney's iPad paintings, the subject of which heralds the arrival of spring. These were all executed in Normandy in 2020, during the first wave of the Covid-19 pandemic. In these 'paintings', Hockney depicts a landscape filled with fruit trees, bushes, flower beds, ponds and rivers, fields, and distant hills, capturing the annual cycle of spring from bare trees to buds, flowers, and abundant green foliage.
Solo Exhibitions
Axel Hütte: Chronostasis
April 30 – August 28, 2022, Borusan Contemporary
Known for his photography of cities empty from crowds and magnificent landscapes, German artist Axel Hütte's exhibition offers to the viewer an enriching view of ancient sites such as Ephesus, Miletus, Pergamon, Sagalassos, Hierapolis, and Aphrodisias. The exhibition is curated by Hans Irrek.
Isaac Chong Wai / If we keep crying, we will go blind
May 17 – July 30, 2022, Zilberman Selected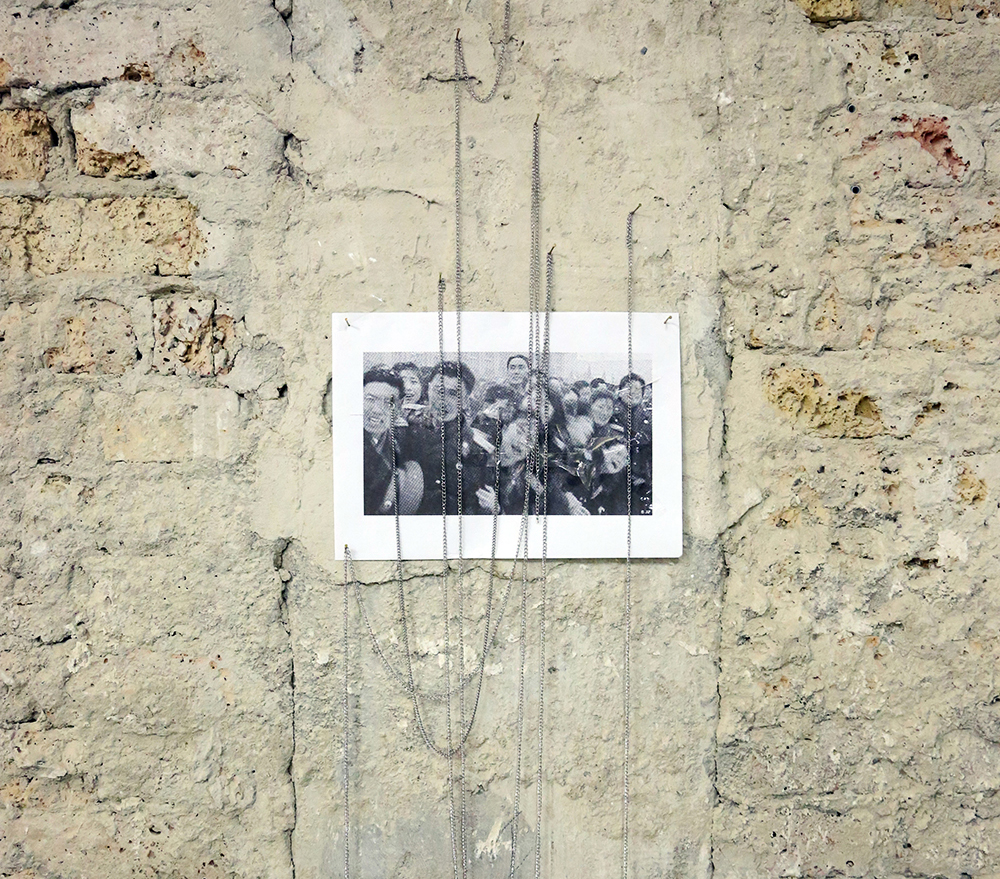 Isaac Chong Wai's exhibition "If we keep crying, we will go blind" features an entirely new body of work, including a large-scale installation, a 2-channel video, a series of silk prints, a lightbox, and a performance.
Manuel Çıtak / islomania
May 12 – July 2, 2022, DEPO Istanbul
Manuel Çıtak's solo exhibition islomania, takes its name from a condition of "island intoxication", which writer Lawrence Durrell first used in his book Reflections on a Marine Venus (1953) and defined as an illness. The works in Çıtak's first solo exhibition, islomania, can be grouped as landscapes of untouched nature showing its grandeur and highlighting the sense of "isolation" on the island; photographs in which people or other creatures, who seem to undertake the task of help determining the scale in vast spaces, watch nature, and time "stands still"; close-up "catharsis" photographs of people in nature who are aware or not aware of being photographed.
Özgür Demirci / Anthologhy of Promises
May 14 – June 18, 2022, Pilot Gallery
Özgür Demirci's first solo exhibition "Anthology of Promises" brings together the artist's videos, objects, and installations, which the artist has produced after a thought process spanning the last three years.
Can Göknil / Maybe So Maybe No
17 May – 25 June, 2022, Bozlu Art Project Mongeri Building
The exhibition, where the artist's latest works produced after her 2018 retrospective will meet with the audience, focuses on a variety of mythological stories and the continuity of planets and various celestial bodies (whose presence have shaped people's imagination, beliefs, and perceptions of the future since ancient cultures) under new names and meanings in different cultures.
Erdal Duman / Something's not Right
May 17 – Aug 02, 2022, artSümer
In the exhibition "Something's not Right", Erdal Duman draws attention to the inconceivable distortions of the course of events, based on the oddities he defines as "reverse", while questioning the values accepted as true and real by society in the post-truth era.
Group Exhibitions
And Now the Good News / Collection Exhibition
April 13 – August 7, 2022, Pera Museum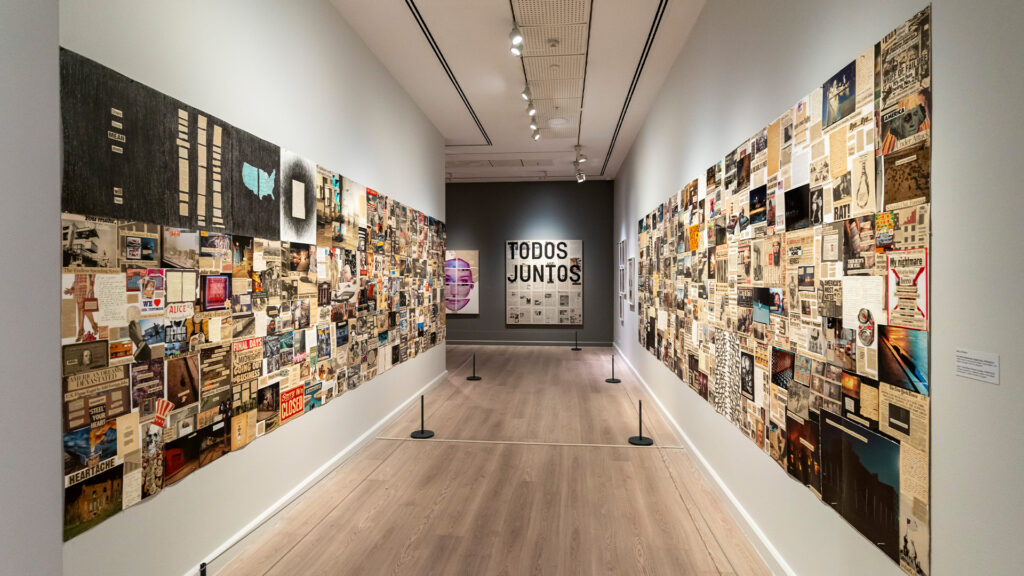 Focusing on the relationship between mass media and art, the exhibition entitled And Now the Good News brings together a comprehensive selection of works from the Annette and Peter Nobel Collection. Curated by Christoph Doswald, the exhibition traces the history of modern art while discussing the most critical issues in science, culture, and politics in the last 150 years. Featuring around 300 works by 164 artists who have used a variety of media such as painting, photography, collage, drawing, installation, and video, the exhibition displays the most important periods of modern and contemporary art.
Immortal Faces / Collection Exhibition
May 26 – November 27, 2022, Yapı Kredi Culture and Art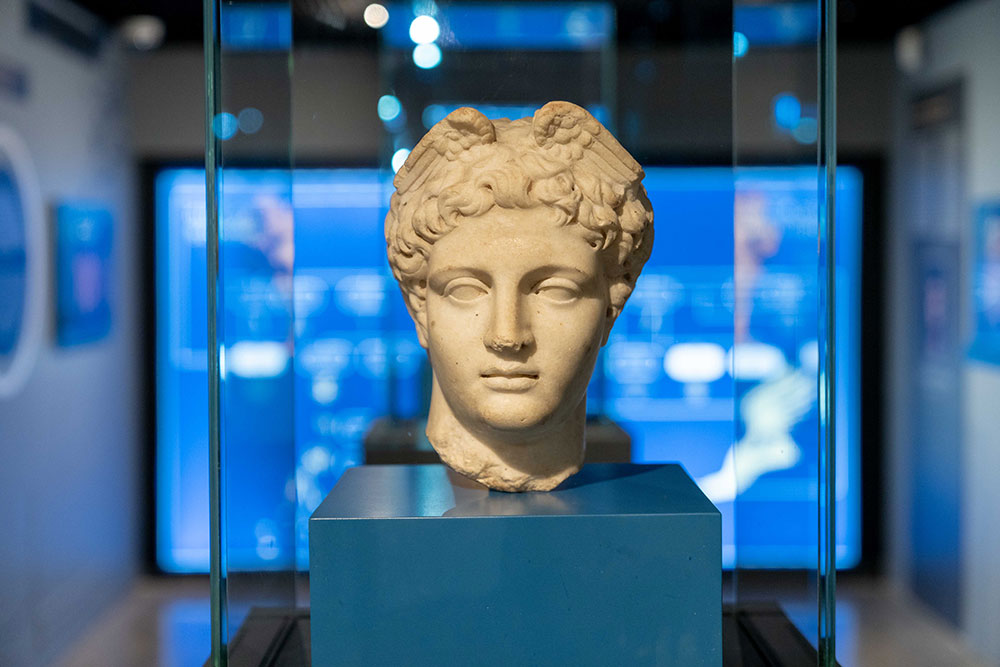 Yapı Kredi Museum celebrates its 30th anniversary with "Immortal Faces" exhibition, prepared especially for the International Museums Day. International Council of Museums (ICOM) determined the theme of 18th of May International Museums Day as "Power of Museums." Inspired by this theme, "Immortal Faces" exhibition brings together examples of sculptures which were borrowed from Istanbul Archaeological Museums and Sadberk Hanım Museum collections and a selection of coins from the Yapı Kredi Museum collection that have portraits depicted on them.
Settling into the Abyss / Group Exhibition
May 13 – July 1, 2022, Zilberman İstanbul
Bringing together works by Isaac Chong Wai, Sandra del Pilar, Memed Erdener, Erkan Özgen, Yaşam Şaşmazer, Neriman Polat, Cengiz Tekin, and İsmail Yılmaz, the exhibition deepens around the notions of representation, identity, grief, justice, solidarity, rebellion and psychological dilemma. The exhibition is curated by Naz Kocadere.
Intersection VII / Group Exhibition
May 13 – July 2, 2022, X-ist
X-ist's discovery series Intersection, which brings together young talents, presents its seventh edition, comprises the exclusive works of Büşra Çeğil, Pelda Aytaş, and Sayna Soleimanpour.
Compiled by Ezgi Cemre Er