As one of the women making up half of our chaotic metropolis İstanbul with fifteen million inhabitants, I believe it is impossible not to be startled by the atmosphere of gender inequality, which is increasing at a frightening pace every day, relentlessly astounding us over and over. According to the Global Gender Gap Report published by the World Economic Forum in 2021, Turkey falls to the 133rd place among 156 countries, and it will take us at least 136 years more to achieve gender equality globally. After the Istanbul Convention was abolished with a single signature last year, now we are holding our breath, waiting for the Council of State's response to the historical defence and plea of hundreds of female lawyers for the overturn of the unjust annulment. While the Osman Kavala case, which has become a symbol of ongoing unlawfulness, has been further darkened with the new ruling on life imprisonment and seven new arrests, a lawsuit has been filed to terminate the activities of the 'We Will Stop the Femicide' Platform, which struggles to stop the killings of girls and women with unjust incentives of judicial pardons simply due to their gender…
In the wake of the #metoo movement that spread all over the world in 2017, we are now confronted with the reality of how internalized and ordinary the harassment of and attacks against women have become, thanks to the successful campaigns of the #susmabitsin platform, the solidarity network of women working in the fields of cinema, TV and theater in Turkey. Just by looking at the history of #susmabitsin social media accounts, one can see how busy the agenda is… Every day, we live with the uncertainty of how we will wake up to the next day. The focus on female body, which involved discussions on 'headscarf' during my university years, has nowadays been evolving around the percentage of tolerance for the visibility of the female 'breast'. Generations change, but the fear of the female body never ceases.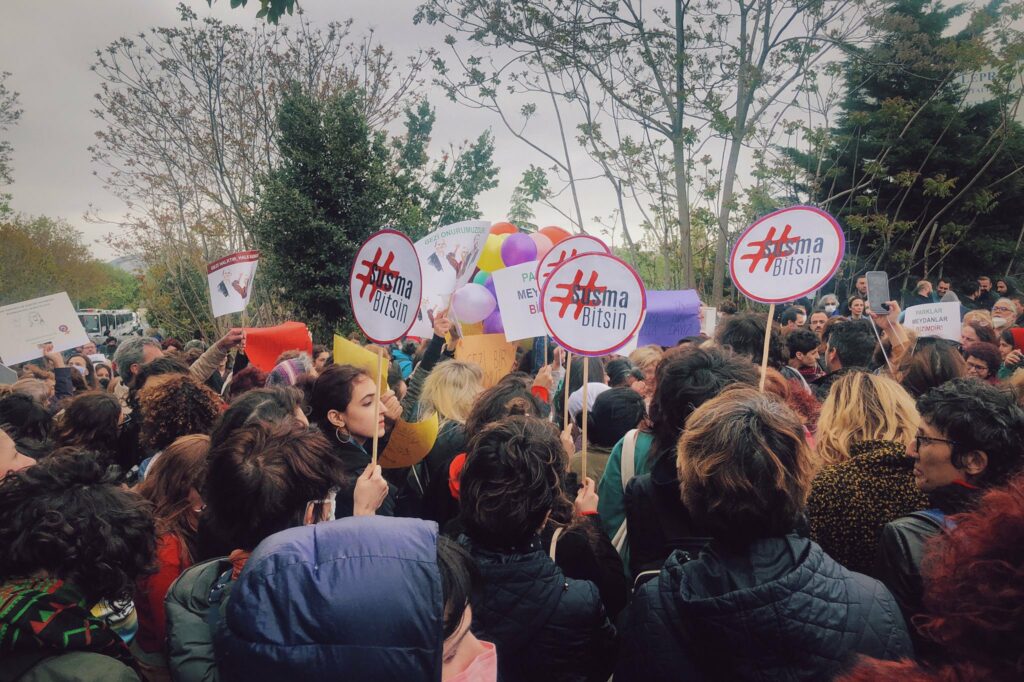 I had long been planning to write about my experience of being a 'female' cultural professional in the arts and culture ecosystem in Turkey. However, the terminological confusion[1]in my profession named as 'arts management', wedged me here as well, and it seemed either superfluous and even exaggerated and discriminatory to headline being a "female professional" as a single and childless woman who is not LGBTI+ and has not experienced any physical harassment or assault while there existed numerous visible systemic deficiencies in the creative field.
However, reading the 10th report of Istanbul Foundation for Culture and Arts (IKSV) prepared by Prof. Itır Erhart, entitled 'Gender Inequality in the World of Arts and Culture: Contested Issues, Structural Problems, Suggested Solutions', which became accessible online in April 2022, provided me a motivational opportunity to write this article I had been planning for so long. Before sharing my thoughts on the report, I should state that I am not just a mere reader, but also have an institutional collaborative relationship with this study. The British Council, of which I have been a part of the arts team in Turkey for the last eight years, contributed to the report with its 'Policy Development Grant Program'. The initial findings of the report were first shared with the public by Itır Erhart, the author of the report, at the closing panel 'Equality in the Creative Field'[3] of the WOW – Women of the World Festival Istanbul[2], , which I had the pleasure of acting as the project director and the curator in Turkey. The recording of the panel, which was energising with both its presentations and audience contributions, will be shared soon, but I can initially let you know that in the Q&A session of the panel, a 'male' audience member questioned the output of the report with great confidence, describing the gravity of the presented situation as a mere 'exaggeration'. As a matter of fact, what has set me into action is this very exact point – that I always stand at this "exaggerating side"… It is my outmost joy that, I feel changed by witnessing the courage of women of diverse generations, identities, socioeconomic statuses and orientations to share their creative productions and stories whose path crossed with mine in my WOW Istanbul journey since 2017. ,. Ahu Öztürk's talk entitled 'The Shame of Writing', presented at the Five-Letter Sounds panel at the festival, which was organized face-to-face for the first time this year, confronted me with my own limitations and fears.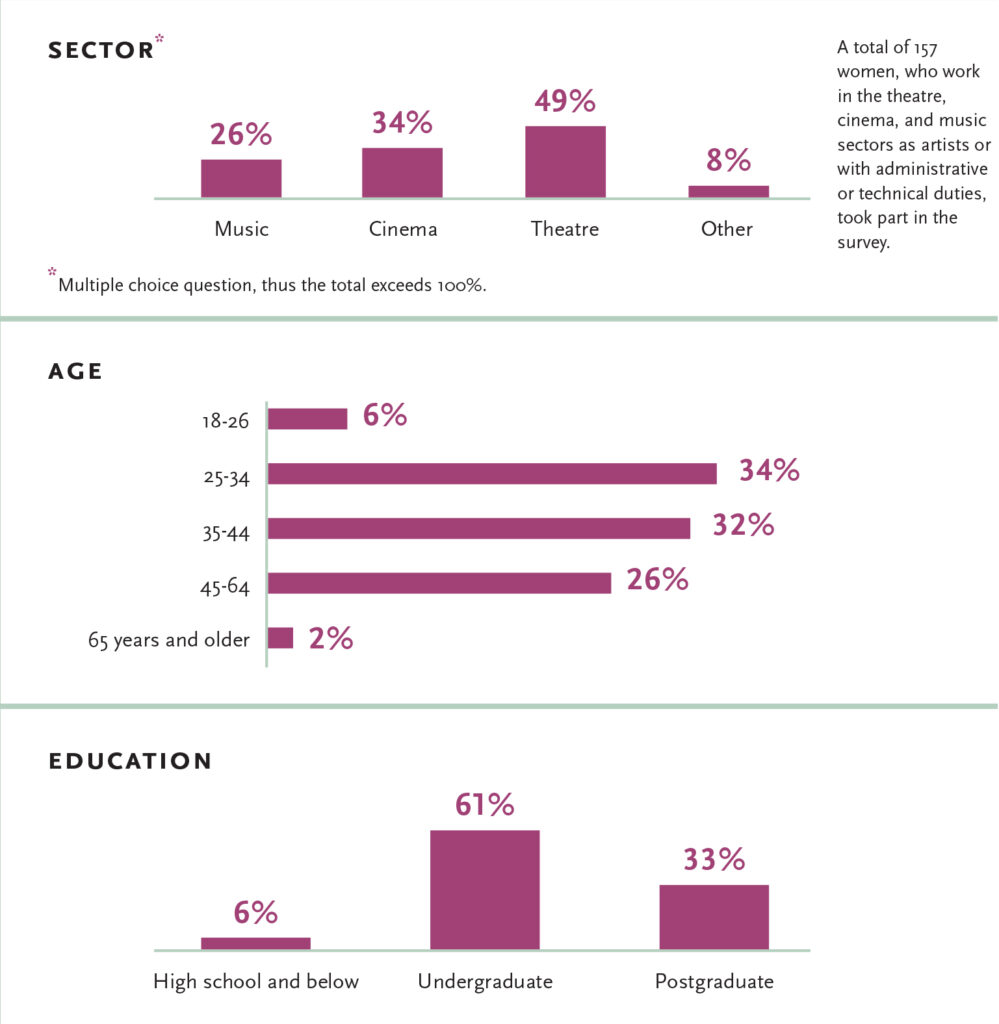 As mentioned in the foreword by Özlem Ece, who is the founding director of the Cultural Policy Studies department of IKSV and put great effort into the festival as a member of WOW Istanbul Advisory Board, it is quite meaningful that IKSV, the architect of our creative ecosystem celebrating its 50th anniversary in the field, has published this report in 2022, that is the 45th anniversary of the proclamation of women's day by the United Nations. The report that was made by conducting in-depth interviews, surveys and focus group studies with artists and art professionals with a focus on theatre, cinema and music, calls all "to contemplate together with the culture and arts professionals in Istanbul how the creative sectors in Turkey can become more equal, democratic and inclusive." With your blessing, I would – responding to this call – like to embark on a personal journey of contemplation. I am sure the report will receive its academic appraisals and reviews within the gender equality scope. My intention as one of the professionals in the sector and the subject of the report is to share my thoughts about this research with my 'newly acquired' courage.
Let's kick off by looking at how the 18 female professionals who contributed to the in-depth interviews of the report's survey define being a woman in Turkey: "exclusion", "segregation", "subjection to male language, male domination, male oppression", "inability to walk freely on the street", "not being taken seriously", "having to work more than men", "being silenced", "feeling the pressure to hide one's sexual life" and "being in a ceaseless struggle"[4]. Do these descriptions sound familiar to you, too? Isn't it heart-breaking to read them one after another?
Here is a citation from Butler by Erhart in her foreword:
"The roles, values, behaviours attributed to women and men are reinforced and internalized through a discourse that places emphasis on natural differences. This discourse narrates the women and girls as the fragile, maternal, frail, passive, delicate, domestic, loyal, and more emotional sex (Butler, 1989)."[5]
I see that within the span of my professional career for the last twenty years of working with very different management models and structures at creative institutions, in my interaction with the senior management who were usually heterosexual men, I have predominantly embraced the identity of a loyal and a grateful 'girlchild' who never grows up trapped in a never-ending learning phase. I am confronting the fact that I have always felt grateful for my attained professional position and status as if I had not achieved this career with my own acknowledgement, experience and merit but had been granted with luck and bestowment. I cannot stop but ask myself why I kept working in the first decade of my professional life that I've sustained without insurance, salary and stability with this belief that I'm never sufficient nor complete no matter what I do and why I constantly felt grateful to the sector and my masters for the opportunities that were granted to me while those who really believed in me were my family, particularly my dear mother Günseli Aysun, respecting my passion and supporting me unconditionally with all her compassion and financial means. Isn't this very masculine structure perpetuating their inheritance of a vicious system by taking advantage of us – women's self-acceptance of their social realities, our desperate efforts and struggles to endure in this relatively egalitarian work environment and abuse our sense of self professional satisfaction by making us into galley slaves rowing against the current; convicting us to kin support as a girlchild who never grows up. Aren't the members maintaining the men's club continuity the reason why we always feel on the outskirts of that club?
Erhart describes being a woman as follows: "Womanhood is associated with the sense of being an individual excluded from the mainstream, struggling outside the circle; and at the same time with the need to constantly protect and prove oneself within her social environment. This need results in the inability to freely be oneself and act like oneself and the necessity to constantly develop shields and defence mechanisms. In reference to Simone de Beauvoir's book (1953), where she defines woman as the Second Sex and womanhood as Otherness, not being a heterosexual man is described with expressions like alternative to the main thing, subsidiary, auxiliary, and secondary".[6]
This is so true. The reality that we need to confront in our professional ecosystem is that we are imprisoned to stay within this comfortable and so called egalitarian secondary circle that has been deemed appropriate for us, as those who are not heterosexual men.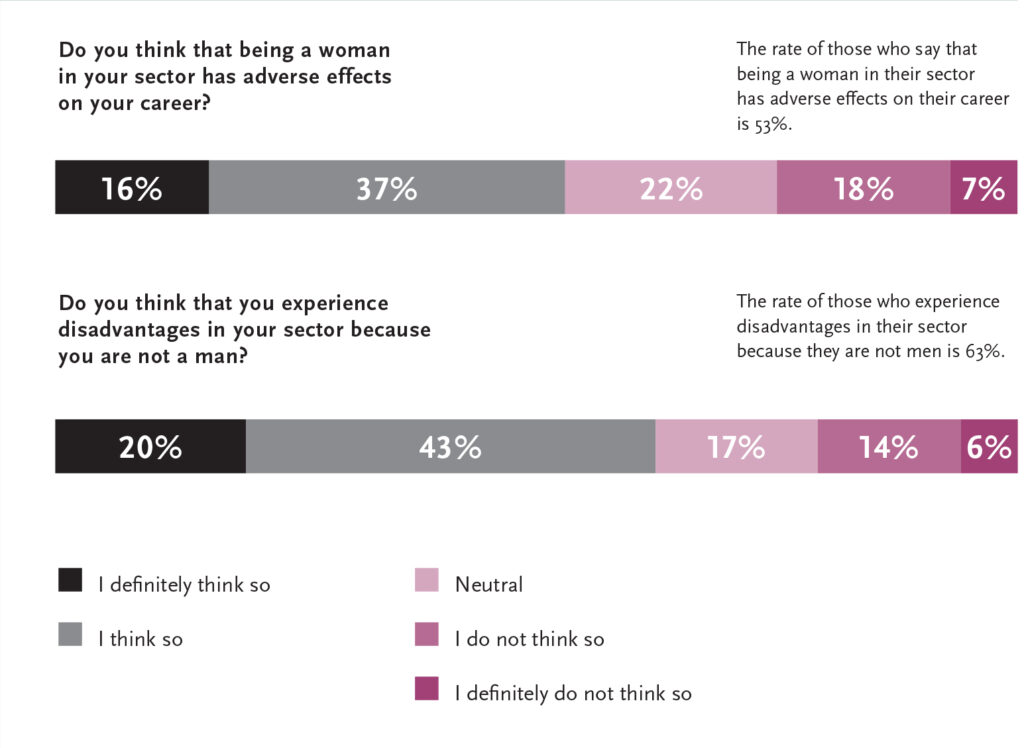 Another striking finding of the report, in my opinion, is that while the percentage of those who responded affirmatively to the question "Do you think that being a woman in your sector of employment has adverse effects on your career?" is 53%, the figure rises to 63% when the question is reconstructed to read "In your sector of employment, do you think that you experience disadvantages because you are not a man?" Don't you think this demonstrates that we have internalized the disadvantages we have experienced so much that we do not even talk about them?
The "Women's Power in Culture" research conducted by the British Council in 2016 was intended to reveal the needs and desires of female professionals and managers in the field of arts and culture, where more than half of the workforce is women.[7] The most surprising finding was that despite all the unfavourable conditions such as long working hours, low wages, insecurity and lack of support mechanisms, 80–90% of female cultural professionals, who make up 70 percent of the field, had an unprecedented level of professional satisfaction, describing their job as the "job of their dreams providing them opportunities to indulge in productivity and creativity as well as intellectual satisfaction and social benefits"![8] When I first saw this data, I felt proud of the fact that we had jobs that we really loved and was at the same time deeply saddened by the fact that we accepted, without questioning, our bad fate, which we believed we could not change, and worked diligently for the sustainability of the field without complaining. I don't know whether to laugh or cry when I think that I asked, just out of dramatic embarrassment, my mother to pay the remuneration of the guides that were working with me when the concert organization company I worked for during the time when I returned home for the summer break from my graduate program abroad went bankrupt after an event, let alone not getting paid for my two months' work! Oh my dear mother who provides endless support to the industry! Exciting and adventurous career experiences with unpaid insurance premiums, unpaid salaries, no savings and hello middle age! My mom can't make up the industry's failures anymore, and I haven't been taking risks for the past ten years. However, if I were a professional who have just stepped into the field in the early 2020s rather than in the early 2000s, it would be possible for me to insist on holding on to my profession unless the low wage problem is resolved, as we emphasized in the suggested solutions in the British Council's research. One of the most worrisome developments that jeopardize the inclusiveness of the field of culture and arts is that the discrepancies and diversities among workers and producers are, under these circumstances, doomed to disappear.
In brief, I can say that the main findings of the two surveys are quite consistent with each other. The data from the survey in 2016 points to the gap between the work experiences and career expectations of male and female professionals, demonstrating that inequality is especially apparent in "recruitment, promotion, career development and wages" in our field, which is regarded as an innovative industry with a high number of female employees, and that senior managers are more likely to perceive the industry as egalitarian. The apparent inequality in our field, to which we have dedicated years of work under the illusion that we always feel equal, is striking indeed:
"Experiences of gender discrimination include being paid less (compared to their male colleagues), being treated as inadequate, being provided with less support, feeling isolated, being harassed, not being given enough initiative or not being promoted, etc."[9]
While seeing similar data from 2016 to 2022 has unsettled me with the same sadness, Erhart actually sheds light on both this illusion of equality and the inevitable repetition with a much more comprehensive analysis. The fact that 7 out of every 10 women participating in the IKSV survey think that women are not equal among themselves in the industry they work in, and list occupational hierarchy (72%), socioeconomic inequality (52%) and physical characteristics (51%) as the top three reasons for this inequality suggests that manager women in decision-making positions need to incite more change. It is obvious that female managers, who have crossed the glass ceiling in the world of arts as they have done in the business world, should first analyse their own institutions through a gender equality lens and take the necessary steps for change to bridge the potential equality gap. You might question whether this falls on us, women, again, but if we cannot defend this ethical value of ours in our professional environments, to which we dedicate our time and life more than our own families, how can we defend our efforts? Don't you think we have passed beyond the era of setting an example by sharing success stories? It is time to talk about what we can change together by answering the question, 'what have I changed for those who will come after me?' instead of the dissociating narrative 'if you want to be successful like me, you need to work hard'.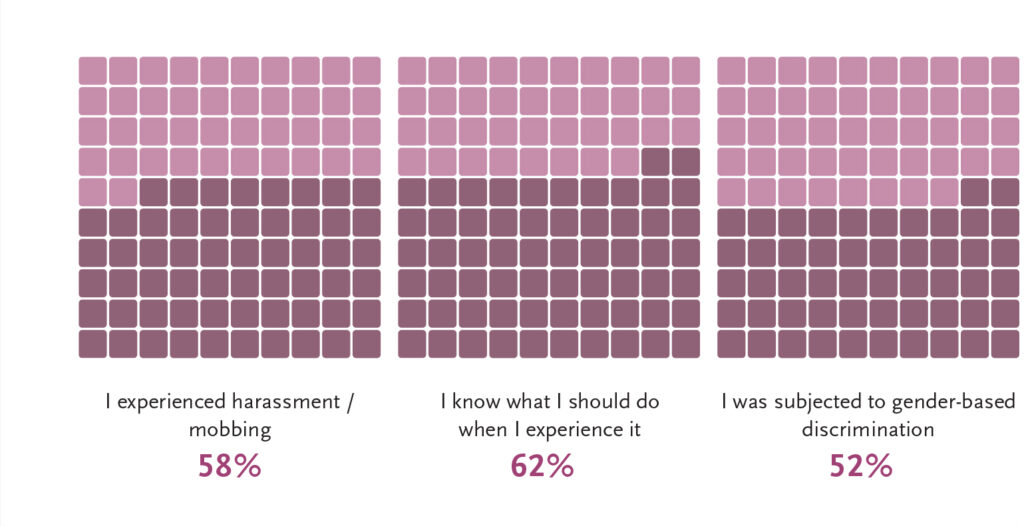 In the IKSV report, the percentage of those who have experienced gender-based discrimination is 52%, while the percentage of those who have experienced harassment and mobbing is 58%. The only positive finding in this desperate picture is that as high as 62% of the respondents stated that they would seek help from solidarity organizations formed by women in the field, instead of directly filing a case, in the event that they found themselves in such a situation.
I recommend you to read the "Stories from the Field" sections in detail and to examine the case studies meticulously. Do we know if the human resources departments in our cultural institutions are sufficiently equipped to handle such cases? How much do we keep track of the cases in our field? Unless it happens to ourselves or someone close to us, will we not be interested? Aren't we going to say #speakouttoendit (#susmabitsin/#metoo)?
The top three suggestions by the participants who responded to the questionnaire to create a more equal ecosystem of arts and culture without gender discrimination are, as we will all agree, legislative action, wide-ranging practices—which should already exist—such as the incorporation of gender equality in the education curricula, and the desire for more organization among women. The least mentioned suggestion is positive discrimination. Indeed, we have failed to fully embrace this concept of positive discrimination, right? As stated in the report, some female professionals are, in fact, annoyed by quota practices due to their negative connotations such as "condescension", "devaluation", "scorn" and regard positive discrimination as the reduction of people to their genders because of practices such as giving floor to women first in meetings. I have held these ideas for years, but now I see these annoyances as an escape from the weight of admitting the existence of the 'matrix' we were born into. Even though we, lucky individuals, experience the privilege of equality today, I believe we are responsible for acknowledging the existing systematic inequalities and making this struggle visible for everyone.
I declare it with the beam in my eye. I admit that throughout my professional life, I have considered myself immune from various discriminations that have been experienced much more visibly, such as being LGBTI+, deep poverty, ethnic or religious differences. I now reckon that I assumed my existence in gender inequality, which I regard as our "unalterable social reality", as one in a world of 'pink equality blessed by art' when it comes to my professional life, as if I passed through a magical door. And I accept that by ignoring the various discriminations that I have been exposed to and that I am ashamed to care about, due to my lucky position, I have somehow contributed to the continuity of these discriminations.
I am glad that I have had a professional experience with the Women of the World (WOW) Festival Istanbul, which has implemented the suggestions listed by Erhart in the conclusion and recommendations section: "developing work, performance, and exhibition spaces that respect the equal representation and participation of women art professionals, and conducting projects that will diversify content and participation and eliminate the obstacles to the participation of disadvantaged groups." I am acquiring the patience to listen to the stories of others, and I wish my cisgender, heterosexual male colleagues in the field to acknowledge the privileges they were born into and realize that they are surrounded by support mechanisms that they may not even notice, with many advantages in their professional success compared to their non-heterosexual colleagues. I want them to leave the masculine ground where they feel comfortable, to stay away from sexist language and prejudices, and to avoid defending their own ground against any female colleague who speaks out their different opinion by oversimplified statements such as "you are exaggerating it", "when will this struggle of yours be over", "feminist narrative again, what does it have to do with being a woman or a man?", "stop gender-based discrimination", "art has no gender; those who can succeed will eventually succeed", and to acquire the patience to listen to other people's stories.
My wish from myself and my sisters is that we accept that we exist as non-male professionals in the field of culture and arts, proceed on our way with the courage to express this openly and to work together believing in change. And most importantly, let's dethrone those who have declared us "girls that never grow up" and themselves "permanent masters" for years in their endless networks of power bestowed by these lands! We need to not only fight against the visible harassments, assaults or inequalities, but also to struggle to change those outdated beliefs that have surrounded us like a spider's web. We should talk more, write more, say we are here and together. Believe me, everything will be better if we stand together.
---
This article was first published in Turkish on 23 May 2022, English translation edited by Ekin Tümer.
---
[1]Please see the section titled 'A Current Issue: Art Management' in my book named Dialogues on Art Management, published by Yapi Kredi Publications  in March 2014. The same text is available at esraaysun.org.
[2]The Women of the World (WOW) International Women's Festival, which supports women and girls and makes visible the challenges faced by them and the solutions formulated for a more equal world, was held in Istanbul physically for the first time this year, by the WOW Foundation and the British Council, with the support of Istanbul Metropolitan Municipality, at the Gazhane Museum, the cultural heritage and new living space of the city, on March 19-20, 2022.
Having brought together the field of culture and arts with civil society to create new dialogues and collaborations, the festival offered a unique platform to share the stories and voices of women by providing opportunities for encounters from different fields through music, performances, conversations and workshops.
The festival was attended by a total of 196 artists, speakers, workshop leaders and 33 non-governmental organizations from the UK and Turkey. By making the art audience a part of the festival and ensuring exchange of cultural and creative statements on a safe, embracing and inclusive platform, WOW Istanbul reflected the belief of women who say #wearetogether in change and equality.
[3] Clips from the festival held in the Gazhane Museum on 19–20 March 2022 will be posted on wowistanbul.org and British Council's YouTube accounts this year.
[4] https://www.iksv.org/i/assets//iksv/documents/kultur_politikalari_rapor10.pdf, p.8.
[5] https://www.iksv.org/i/assets//iksv/documents/kultur_politikalari_rapor10.pdf, p.17.
[6] https://www.iksv.org/i/assets//iksv/documents/kultur_politikalari_rapor10.pdf, p.29.
[7] Women's Power in Culture report is accessible at: https://www.britishcouncil.org.tr/sites/default/files/womens_power_in_culture.pdf
[8] https://www.britishcouncil.org.tr/sites/default/files/womens_power_in_culture.pdf, p.12.
[9] https://www.britishcouncil.org.tr/sites/default/files/womens_power_in_culture.pdf, p.19.