biriken is the artist duo formed by Melis Tezkan and Okan Urun, who have been working together since 2006. They produce works "dealing with today's daily, social or conceptual reality" using various areas of expression such as theater play, video, installation, performance and text. In the works of biriken, the processes of change of characters, vulnerable subjects and identity games come to the fore. We talked to biriken, who directed and designed the plays For Rent [Sahibinden Kiralık] and The Night Just Before the Forests [Ormanlardan Hemen Önceki Gece], wrote and directed the play I Shut Down My Heart Until The Apocalypse [Kıyamete Kadar Kapattım Kalbimi], presented the installations and performances called Unplugged at Pera Museum, set the nights on fire with their parties and translated The Dictionary of Homophobia[1] into Turkish, which is compiled by Louis-Georges Tin.
From an outsider's perspective, I can say that for this kind of collaboration to work, everyone involved should think about their identity more fluidly and allow some transitions and transformations. What kind of a co-production process do you have as a duo? How do you evaluate your ideas evolving together, perhaps transforming into each other while working on a project?
The production process is an interactive process for us: standing side by side, discussing ideas, making decisions, taking action, involving others, etc. Although it is essentially a relationship based on consensus, conflict is always on the brink. After a while, you start using conflict as a driving force. That's when what we call turning into one another, coevolution, happens. We also allow this mechanism to occur between people, ideas, objects involved in the production process; then again, we, the two of us, lay heads together and give it to the final shape. Unlike the rigid uniformity and determination, it is more of a process that requires time, patience, and openness.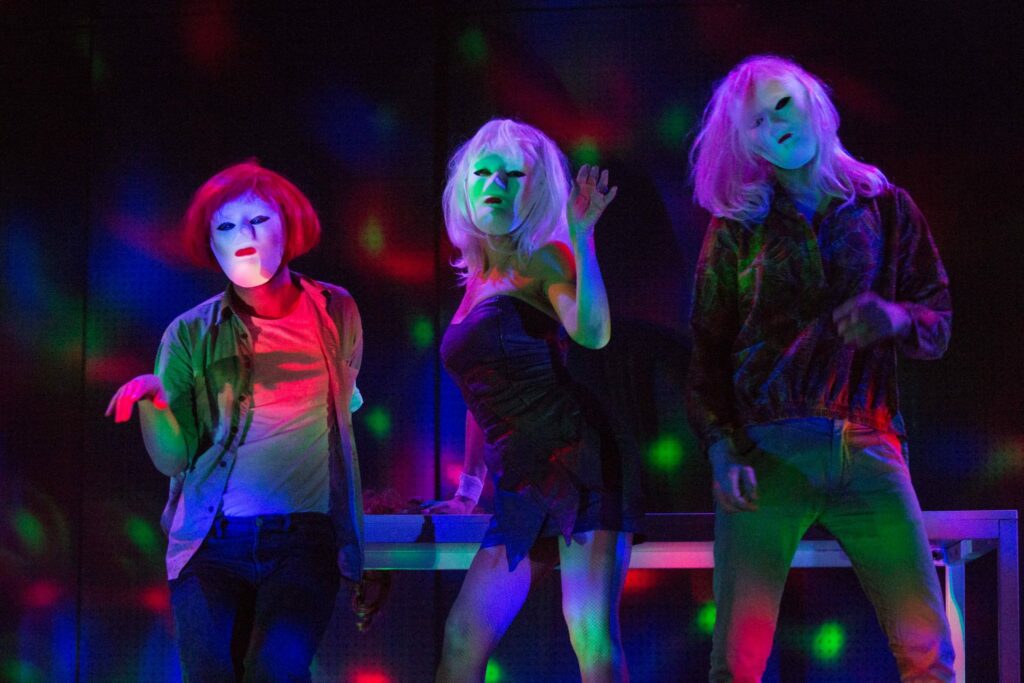 When we started our first project (NOW THERE IS A HOLE WHERE ONCE STOOD OUR HOUSE / ŞİMDİ BİZİM EVİN YERİNDE ÇUKUR VAR, 2006), we did not aim to maintain this partnership for a long time, but our first reflex was to find a name for this duo. It was not something we wanted to sign the work with our own names or through the division of labor. What was important to us even from the very beginning was to create a common space, a real togetherness, where the practices of the two artists motivate and feed on each other. This was both an ideological and a romantic choice. It was to bring out what's collective, though not anonymization. The transformative effect of queer is not a reference, an aesthetic phenomenon, or a story in one or another project of biriken, but the basis of the practice of it. And contrary to what is supposed, this is not a practice where the individual cancels themself, but on the contrary, a practice in which we thrive together, test our limits, and liberate each other.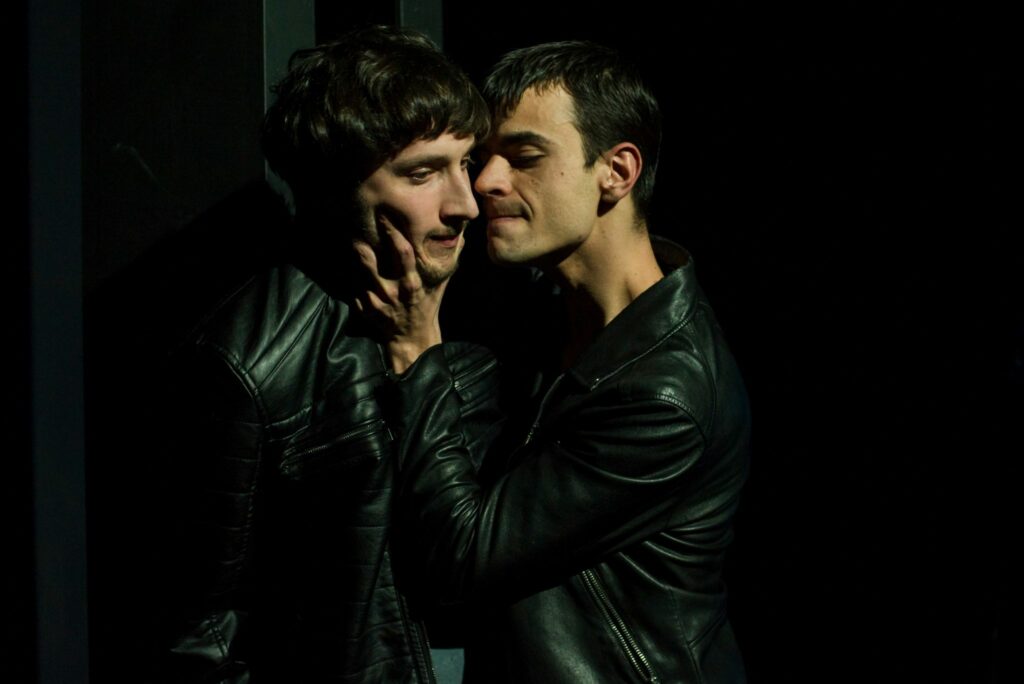 Your last project, For Rent, was set in a park and focused on the stories of six characters. It was basically a story that had a problem with the concept of "masculinity", and we were witnessing the confusion, disappointment and anger of characters who promoted themselves on the one hand and thought about relationships, sexuality and love on the other. What kind of a visual language did you construct to highlight the identity confusion and the intertwined relationships of these characters in this project?
Although the play For Rent seemed to be the story of men, the thing that impressed us in the play was that the desire and determination of women to change, the questioning of the moral phenomena in different systems by the characters, and the feminist approach towards those who found themselves living with an immigrant identity in their own country while escaping from socio-economic violence. While staging the play, we wanted to explain the journey of the objects, which were emphasized in the text – and which we thought to be transformative-, in a visual language. We created a cinematographic stage design and direction that highlight the story of the elements (lighter, jacket, rosary, park bench, pocketknife…) that underline the moments of transition in the performance of different identities and that make the transition possible. Instead of bringing the violence element that manifests itself strongly when we read the play to the stage, we chose to show the layers of violence by analyzing them on the stage. In this story, where violence prevails and captures the narrative, we made choices that underline that the park is just a decoration and highlight the artificial. We have applied the artificiality mentioned in both the background decor of the stage and the backgrounds of the videos in the play in different ways.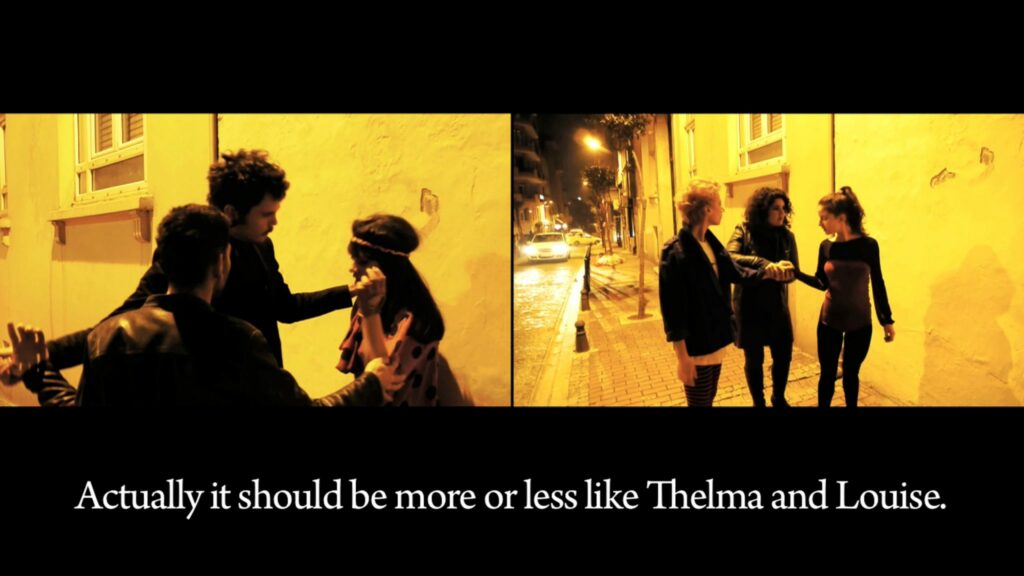 Even though you make use of a variety of media, clever humor winking at the audience accompanied by a profound sadness that touches the viewer somewhere deep inside is always a part of your works. How do you use this duality so effectively together?
We feed on laughter and humor in life. We find ourselves making each other laugh, even in the worst of situations. As we start each new project, we say it will be funny this time, especially in the theater works in which we create the text ourselves. But each time we find ourselves handling deeply sad issues, and trying to deal with sadness and nostalgia with humor.
In fact, the point where we look at life, or the point where life inevitably brings people, includes these two. It makes more bearable to handle some things that are hard on both personal and social or global levels with humor. Sadness is also a feeling that strangely clings to anything. It appears in a laugh, at moments defined as happiness. So, it is where it's not expected, like humor. Yes, we take special pleasure in reproducing these two surprising situations and emotions in our work, making them part of the same thing. Most importantly, we cannot give up sadness and humor because they allow multiple perspectives or multiple meanings while conveying something.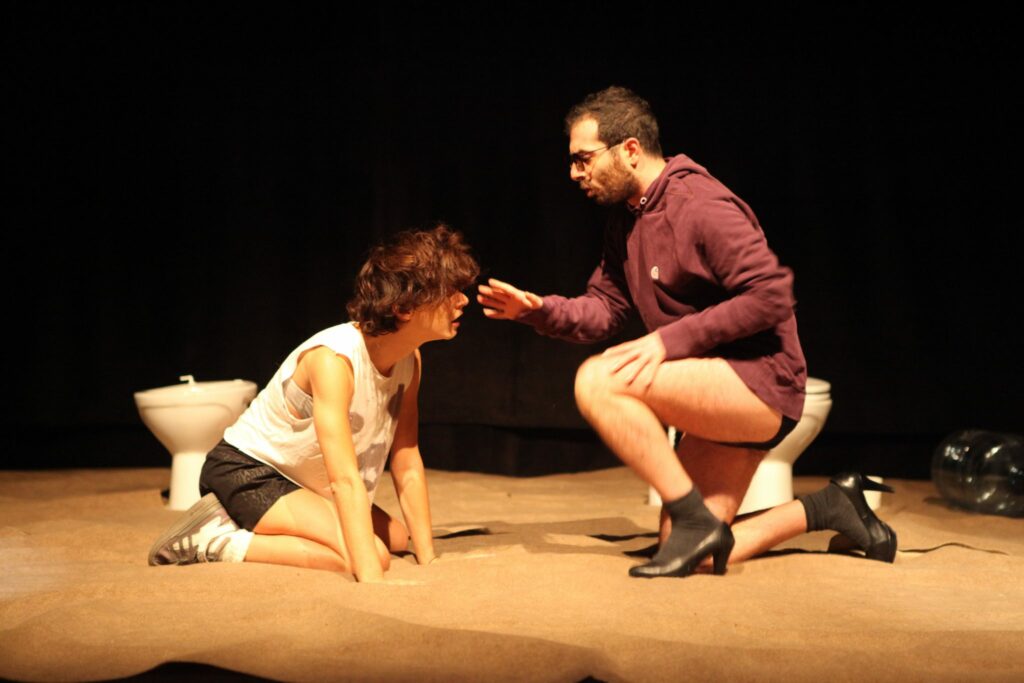 I observe that there is a difference between theater and contemporary art in terms of feeding on queer theory and having awareness in this sense. While contemporary art has a more inclusive approach, I feel that theater is a bit lagging in this sense. How do you read this situation as artists who are closely related to both fields?
At this point, it may be necessary to ask the question of which theater and which contemporary art do we compare? Quite centric, sometimes very masculine, sometimes canonist works are actually present in both fields, in the East, and in the West. We can think that projects that place classical storytelling forms at the center, or projects that do not prefer to handle the so-called classical plays in the existing canon with a contemporary perspective, are more visible and mainstream in the theater world. Perhaps this is due to the selection systems that marginalize some of the works rather than the works produced?
Yes, definitely, I think mine is an idea that rises from the fact that this selection system works differently in two areas. Finally, while preparing the translation of the Dictionary of Homophobia, did you have any concepts that you had difficulty adapting to Turkish? For example, lubunca[2] is very difficult to translate into another language in general, did you have any difficulties while preparing a language dictionary that is shaped according to the dynamics of each local context? What method did you follow?
This dictionary essentially functioned as an encyclopedia; therefore, there was a wealth of articles on various topics from countries to people, from art to medicine. There were different uses and transformations of certain words in different historical periods. While working on their translations, we did long researches. We exchanged ideas with people who have a good command of lubunca, as well as other friends who translated queer sources into Turkish. At that time, #tarih magazine also made a special issue on homosexuality, and we benefited from it as a source. Sometimes we encountered words that have an equivalence in our language, in that case, we used those equivalents, but sometimes we encountered words that reflect a situation, a transformation from the culture and the language to which it belongs; In this case, we opted for an explanatory translation.
---
Translated by Erdem Gürsu
[1] Louis-Georges Tin, Homofobi Sözlüğü, translated by Melis Tezkan and Okan Urun, Sel Yayıncılık, 2018
[2] Lubunca, Labunca or Lubunyaca is a secret Turkish queer slang and argot used by sex workers and LGBTQ community in Turkey.